STUDIO RENTAL
2822 A Union St. | Oakland, CA | Directions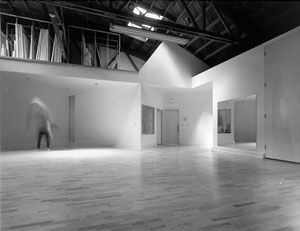 The Ellen Webb Studio is a lovely, private space, ideal for the creation and rehearsal of dance and other performing arts. It is well suited for classes which require physical space: dance, yoga, movement, breath work, tai chi, as well as photo and video shoots.

The space is 1,500 square feet with no columns. The floor is sprung maple, at 30' X 40'. The ceiling height is 16'. There is heating, track lighting and two skylights. There is no food or shoes allowed in the studio.

Ellen Webb Studio is located in a quiet neighborhood, in the corner of West Oakland, next to Emeryville and Home Depot. It is five minuets from the Bay Bridge.

Rental Rate: Rental rates range from $20-$50/hr depending on the group size and how the space will be used. There is a two hour minimum rental.

This fully code-approved and handicap accesible facility serves as a rehearsal studio for many Bay Area dance artists and is home to on-going classes, workshops, and informal performances.


For Rental Information
Email Ellen