STUDIO RENTAL
2822 A Union St. | Oakland, CA | Directions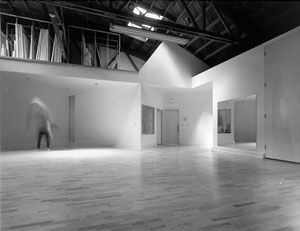 The Ellen Webb Dance Studio is 1,500 square feet of beautiful, open space with a sprung maple floor, ideal for dance. The entrance is through a garden courtyard and the studio is very private and quiet, ideal for classes, rehearsals and creativity. This fully code-approved and handicap accessible facility serves as a rehearsal studio for many Bay Area dance artists, and is home to on-going classes, workshops and informal performances.

The studio is located in a quiet neighborhood near the end of Hollis Street, in the corner of West Oakland and Emeryville, near Home Depot. It is also five minutes from the Bay Bridge.

Rental Rate: $18 per hour, $20 per hour for one-time rentals

If you are interested in using the space for performance, please call Ellen; prices are decided depending on the size and nature of the event

There is a two hour rental minimum, and a discount for groups renting multiple hours on a regular basis. There will be an additional charge for groups of more than 15 people. No shoes, food, etc. allowed in the studio.

For more information:
Call (925) 979-5840 or email Ellen